Scheduling/Rates
Delivery Schedules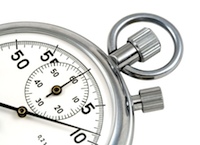 The industry-standard average for basic translation work is 3,000 words per day, per person. The time required to turn your particular project around will depend on factors such as: text volume, technical level of terminology, text formatting, graphics and overall document format. Large-volume projects may be divided among several translators, and may be organized into partial deliveries (by sections, by individual documents) as work is completed.
Our workflow may include input from several professionals, and we always prefer to include at least a half-day safety margin for unforeseeable delays (illness, computer problems, weather…!). Once we have received and examined all of the documents and pertinent information for your project, we will promptly give you a carefully determined price quotation and deadline for delivery. If you have time constraints that might change on short notice, please let us know as much in advance as possible. Standard software for word processing: MS Word, PowerPoint, Excel. Other formats for translation are available upon request and may be subject to an additional charge.
Rates
Translation services are a competitive market. The market has abundant evidence of what cut-rate prices produce in terms of cut-rate quality. We understand you may have a budget, and will do our best to be accommodating. Our rates for your project will be calculated based on:
3 levels of translation quality
General Gist – a very rough, very quick translation done, for example, to determine if an RFP is of interest to your enterprise, or to get the general idea of a text.
Standard – a "normal" translation that may include a few doubts, ambiguities or alternative term suggestions, all of which can be "resolved" either at the translator's discretion or in consultation with the client.
Polished and ready-for-publication – a product that is as accurate as humanly possible, fully formatted to your standards.
Volume and Repeated Words
By their nature, some texts for translation may have many repeated words or text segments. For volumes over 5,000 words, after analysis with our translation software, we may be able to offer you a discounted rate (1/3 of the "new word" rate) for all repetitions.
3 levels of time frames
Normal -> Your project is fit into our workflow and the delivery deadline is defined based on approximately 3,000 words per day at the "normal" translation standard, with no additional services required.
Weekend -> The date your project is received, your deadline constraints and/or the volume in question dictate that work on the weekend will be required.
Rush -> Your deadline dictates that our workflow or working hours must be specially adapted.
3 types of additional services
Editing of the original – We can devote special attention, and offer advice or suggestions for changes, to your original document(s) in terms of content, style, formatting or focus, prior to starting the translation.
Reformatting – Certain document formats, especially PDF, have to be converted to Word in order to be processed by translation software or, in certain cases, may have to be translated by hand or retranscribed before translation. This involves extra time, often to reconstitute the original formatting since conversion technology is still far from perfect. This may also include your submitting a document in Word to be reproduced, post-translation, in PDF, for example.
DTP (Desktop Publishing) – Short on time, resources or creativity? Within reasonable limits, we can make your translation look better than the original, whether for presentation or publication.
Normal Rates for Translation / Per Source Word
General Gist: US $0.14 / 0.10€
Standard: US $0.16 – 0.19 / 0.12 – 0.15€
Polished, Ready-for-Print: US $0.20 – 0.22 / 0.16 – 0.17€
PDF > Word Conversion (if complex) + 10-20%
Normal Hourly Rates: Editing, DTP
Editing previous translations: US $60/hour / 50€/hour
Editing pre-translation original (subject to quote)
DTP – reformatting or upgrade (subject to quote)
Weekend Rates = + 25% / 24-hour service (10 pp. max.) = + 100% / Rush- 48h service = + 50%